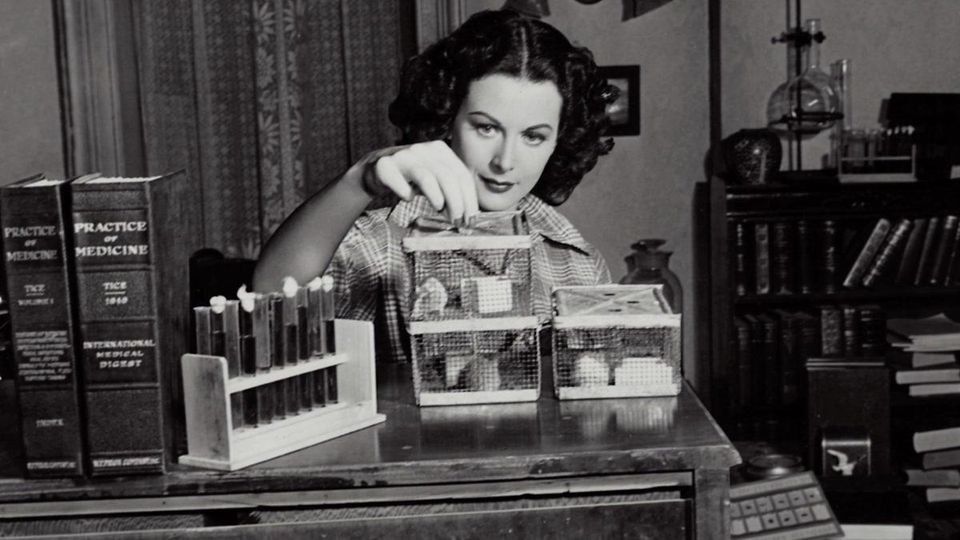 Hedy Lamarr: More Than Just a Pretty Face
Can a woman be both smart and beautiful? The obvious answer is well, yes. Of course she can. However, society tends to split women between being smart and beautiful.
There are women who are seen as beautiful, and there are women who are smart, although in the past a lot less was seen of the latter. Take Hedy Lamarr. It is a name that evokes old Hollywood and great beauty. She was the most beautiful woman and a famous actress. She was also an inventor. Somehow, history tends to forget this last part.
Lamarr had from a young age had had a love of science, which had been influenced by her father. He talked to her about the inner workings of machines to the point that Lamarr at the age of 5 was able to take apart and reassemble a music box. Guided by her mother, Lamarr took on roles in movies and eventually married a munitions manufacturer, who often had guests over. Lamarr would listen in on their conversations regarding wartimes weapons. In 1937, she left her unhappy marriage with a husband who didn't see her beyond a pretty doll and eventually ended up in London. Unfortunately, this would not be her first experience with being seen only as pretty.
In London, she met the co-founder of MGM studios which eventually led to a career in Hollywood. Despite her newfound fame, Lamarr still found time for her inventive mind. In her trailer, she continued working on various projects. Howard Hughes encouraged her inventive mind, and would take her to airplane factories. She even designed airplane wings by taking inspiration from nature. She combined the design of the fastest fish's fins and the fastest birds' wings into one set of speedy airplane wings. "Genius" Hughes called her.  Her inventive side, though, was somewhat hidden from the public, and not because she didn't want people to know.
Lamarr shared her passion of inventing with George Antheil, a pianist. Both were concerned by the looming war and wanted to contribute ideas to help. In order to help torpedoes resist interference from the enemy, they created a frequency-hopping system that prevented the signal from being jammed. The transmitter and receiver would jump frequencies together and the enemy would not be able to intercept the message with the signal constantly moving across frequencies. In August 1942, they received a patent and donated it to the US Navy. However, the US Navy rejected it, saying it was too cumbersome. Unfazed, Lamarr continued to show her support for the war and used her celebrity status to raise money for war bonds. She even became a US citizen in 1953.
When Hedy Lamarr starred in a new movie, there were headlines raving about how beautiful she was and how greatly she performed. Her new invention? No big headline. Nothing. It is interesting to see what parts of her that society valued. Her beauty, definitely. Her acting, yes. Her scientific side? Nope. It was brushed aside. Why must society pick and choose which parts of people, especially women, to present to the world? Even today actresses are asked about what they wear or their makeup routine. Anything else is irrelevant.
In the mid 1950s, the Navy did use her and Antheil's concept on a buoy that was able to detect submarines and even used it during the Cuban Missile Crisis of 1962. With the patent expiring in 1958, neither Lamarr or Antheil ever received any money from their invention.
As for Lamarr herself, she continued working as an actress until 1958, and even worked as a producer in 2 films. While her great beauty was praised by many, Lamarr did not find her outward appearance as the most important thing. "Any girl can look glamorous. All you have to do is look stupid," she once said. Lamarr was aware of how society valued her beauty. In the 40s, her profile was most requested by plastic surgery patients. Could the same awe be said of her science side? No. Lamarr was in a way forced to hide that aspect about her because she couldn't be recognized for being smart. Society only really valued beauty in women anyway. Even if she was smart, that wasn't really important. It is unfortunate that society was, and still is, like that. Society should realize that beauty isn't always about looking good. It is also about creativeness, kindness, what we can do for others, and so much more beyond physical attributes. Hedy Lamarr created the frequency-hopping system not for herself, but to help our country win the war.
As the years went on, Lamarr never really spoke of her inventive nature. Why? Perhaps because she felt she wouldn't have been taken seriously. After all, the reason she left her first husband was because he never treated her like an equal. It is unfortunate that she felt that she had to conform to society's ideals and couldn't share her inventive side. Society's idea of her was that she was pretty and that was it. Even today women have to deal with society only thinking of them as being pretty or smart, never both. To the public, Hedy Lamarr was only beautiful, and some probably thought that because she was beautiful, she was dumb as well. If she was smart, she would've been ugly. Which is completely untrue.
As time went on, society's ideas of women lessened a bit. Women could get recognition for their brains even while being pretty. Long lost tapes from the 1990s tapes reveal a different side to Lamarr than the public had originally seen. She talked about her inventions, and said "The brains of people are more interesting than looks, I think." She was beginning to be comfortable talking about her science side and know that she wouldn't get ridiculed for it. Finally, in 1997, she began to receive credit for the work she had done. She was the first woman to receive the Invention Convention's Bulbie Gnass Spirit of Achievement Award, which is the equivalent of an Oscar in the inventing world. The Electronic Frontier Foundation honored her and Antheil with the Pioneer Award. It took 50 years for her and Anthiel's achievement to be recognized. Why did it have to take so long? Did society simply not want to recognize her efforts? We have to realize that people are more than just what they look like. The things they do, how they treat others are more important factors that define a person. Physical characteristics mean nothing and do not contribute to who a person is overall.
Lamarr passed away in 2000. However, her frequency-hopping system continues to live on. In fact, you most certainly have used it before, maybe even right now. Today, this technology is used in WiFi and Bluetooth communications. In 2014, she and Antheil were posthumously inducted into the Inventor's Hall of Fame for their work.
It is interesting how history has chosen what pieces of someone to remember. For Hedy Lamarr, history chose her beauty. Not her work as an inventor, which was ignored for years. It wasn't until 50 years later after the invention of her and Antheil's frequency-hopping system were they recognized for their work. Why was it forgotten? Perhaps because society values physical beauty more than anything else, especially concerning women. A woman cannot be both smart and pretty. But Hedy Lamarr defies that role. She was a brilliant inventor and a genius who also happened to look good. Her inventive mind is perhaps the most beautiful part about her.
---
Citations
Brancaccio, David, and Paulina Velasco. "The Story of Hedy Lamarr, the Hollywood Beauty Whose Invention Helped Enable Wi-Fi, GPS and Bluetooth." Marketplace, 29 Apr. 2019, www.marketplace.org/2017/11/21/inventor-changed-our-world-and-also-happened-be-famous-hollywood-star/.
Cheslak, Colleen. "Hedy Lamarr." Hedy Lamarr, National Women's History Museum, 30 Aug. 2018, www.womenshistory.org/students-and-educators/biographies/hedy-lamarr.
Desta, Yohana. "How Inventive 'Genius' Hedy Lamarr Became a Hollywood Tragedy." Vanity Fair, Vanity Fair, 25 May 2017, www.vanityfair.com/hollywood/2017/04/hedy-lamarr-documentary-clip.
Field, Shivaune. "Hedy Lamarr: The Incredible Mind Behind Secure WiFi, GPS And Bluetooth." Forbes, Forbes Magazine, 8 Mar. 2018, www.forbes.com/sites/shivaunefield/2018/02/28/hedy-lamarr-the-incredible-mind-behind-secure-wi-fi-gps-bluetooth/#66f66fba41b7.
George, Alice. "Thank This World War II-Era Film Star for Your Wi-Fi." Smithsonian.com, Smithsonian Institution, 4 Apr. 2019, www.smithsonianmag.com/smithsonian-institution/thank-world-war-ii-era-film-star-your-wi-fi-180971584/.
Long, Emily. "HEDY LAMARR, MARCH 2017 LAMP LUMINARY." The Lamp, 14 Mar. 2017, www.thelamp.org/hedy-lamarr/.