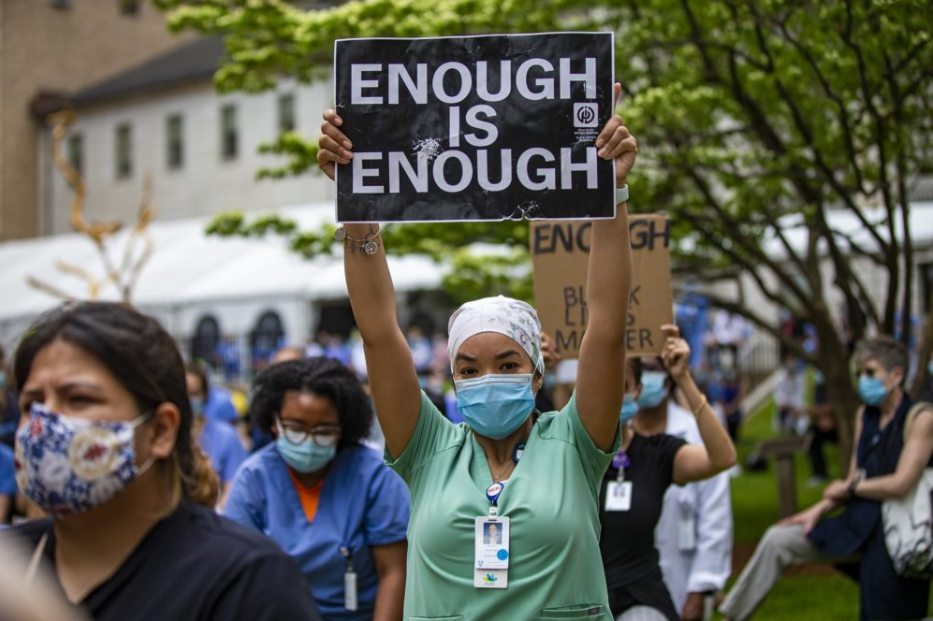 Systemic Racism in Healthcare
On May 25, 2020, George Floyd, a 46-year-old black man, was killed by a Minneapolis police officer who already had 18 previous complaints regarding excessive force. Derek Chauvin, the police officer, pressed his knee into the complying and already handcuffed George Floyd, killing him.
---
This murder has had a profound impact on the United States and numerous other nations where protests have been going on for weeks. The Black Lives Matter movement has gained traction as individuals across the globe have decided enough is enough and that change needs to happen.
No matter what your stance is on this major issue, it has unarguably started a wider conversation on systemic racism and how our society has subtly and not so subtly allowed for racism to continue in the United States. Since this discussion hit its boiling point with the unethical treatment of Floyd, the discussion about systemic racism has been primarily centered around the justice system, and the political climate of the United States. This discussion about the justice system has been very controversial. One area in which systemic racism has been recognized by nearly everyone in the field is in public health and safety, even more specifically the roots of modern-day medicine.
Medical professionals have a very unique perspective: people go to them for help, and as people in a position of power, patients are likely to take their advice and trust them.
This unique and important relationship that medical professionals have with their patients is really a delicate balance in which doctors have an ethical duty to help individuals no matter their race, personal beliefs, and sexual orientation. In modern times, discrimination against people of color still occurs and this might have something to do with the roots of medicine and misconceptions that have been spread.
One of the more obvious cases of discrimination against people of color dates back to 1932 during the Tuskegee Experiment. The purpose of this experiment was to see the effects of untreated syphilis on the human body, however, black men were used as the test subjects for this experiment. Out of the 600 black men that took part at the beginning of the experiment. The 399 men with syphilis were not told of their status and were only told that they were being treated for "bad blood" (a phrase that was often used to describe numerous illnesses.) These men did not know they were ill with syphilis and were told that they were being cured when in reality they were only given placebos such as aspirin. Many men passed it to family members because they were not told of their status. Because the study was to see the effects of untreated syphilis many participants suffered from side effects, such as blindness, insanity, and death.
The men were told that the experiment would only last six months but it went on for an additional 40 years without the men even being fully aware of their diagnosis. Researchers even continued the experiment despite knowing that in 1947, penicillin was a common treatment for syphilis. In the 1960s, a disease detective known as Peter Buxton recognized the unethical treatment that was going on and brought it to the attention of a public health services board that ultimately allowed the study to continue until all patients died. Buxton leaked the story and by doing so he was able to get the study shut down. Congress recognized the issue and paid 10 million dollars for an out of court settlement with survivors.
The government has tried to make amends with victims and family members. However, this did not change the little trust that African Americans had with the public health system. It is apparent how little was done for the black community as the first public apology from a U.S. official was from Bill Clinton in 1997 when he announced the creation of Tuskegee University's National Center for Bioethics in Research and Health Care. This might be the most apparent instance of discrimination against people of color but there are certainly dozens more which are reflected in the high mortality rates people of color face when in medical care. A 2016 study done on medical students showed that nearly 50 percent of medical students and residents believed there were biological differences between white and black people and that black people feel less pain because they have "thicker skin." Black women are four times more likely to die during childbirth than white women and black people are 22% less likely to receive proper pain management medication.
A lot has been going on in recent weeks and it is very important for us to do our research and learn about these disparities that have been going on for centuries in our country.